This is a past event that has already taken place. Sorry if you missed it, find out about future events on our what's on page.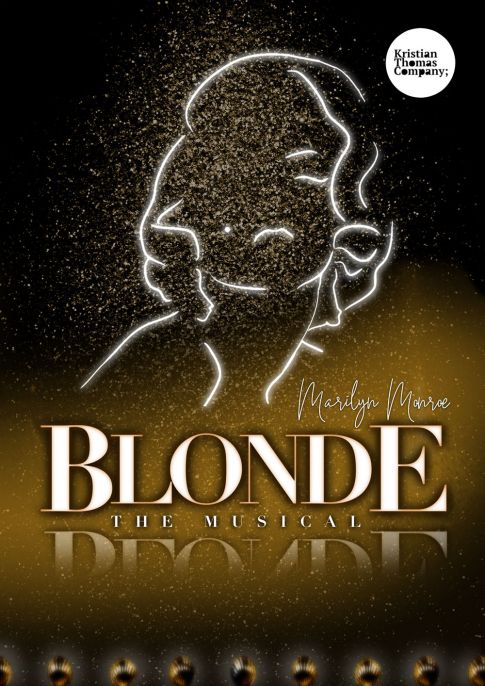 Theatre
Blonde - The Musical
On demand
Watch from 7.30pm 1 May through to the 16 May 2021
Running Time: 1 hour 20 minutes - approximate, including any interval(s).
Blonde is a new musical based on the last nine years of the public & private life of Marilyn Monroe, seen through the eyes (and camera) of young photographer, Georgie Gifford.
The streamed production can be accessed by visiting our On Demand page. With On Demand from LIVETickets simply purchase your ticket for the 1 May and watch it anytime up until the 16 May!  Watch as many times as you would like regardless of when you purchase the ticket.
Music & Lyrics by Adam Howell and Book by Paul Hurt
"I knew I belonged to the world… not because I was talented or even beautiful, but because I had never belonged to anything or anyone else." MARILYN MONROE
Through their friendship, we witness the ups and downs of Marilyn's career, her failed marriages, her dependency on drugs and alcohol and her radiant beauty that made her the American Goddess of the silver screen and icon she still is today. We meet real-life characters… the misogynistic 20th Century Fox Studio Executive, Daryl Zanuck, the maternal yet manipulative acting coach, Paula Strasberg, famous husbands, baseball star, 'Joltin' Joe DiMaggio, playwright, Arthur Miller and Norma Jeane, the shy, naive, small-town girl Marilyn once was.
For all her trials and tribulations, Marilyn's story is also one of hope and survival, reminding us to enjoy life and above all to always… "BE WONDERFUL!"
Directed by Tom Hopcroft with Musical Direction from Tom Bond and Staging & Choreography from Kristian Cunningham.
Featuring: Anna Bond, Becky Wrench, Charlie Ellerton, Chelsea Hawkins, Chloe Hopcroft, Finlay Paul, Jinny Gould, Louise Grantham, Maison Kelley, Natalia Brown, Sam Holden, Tom Hopcroft, Tom Samuels and Verity Power as Marilyn Monroe.
Contains strong language and mature themes.
This event is promoted by Kristian Thomas Company, Livetickets.org are pleased to act as a ticket agent.
Due to the way our video events are accessed, the best way to buy a ticket as a gift for someone else, is to buy and send a Gift Voucher so they can use it to book their own ticket.
Frequently Asked Questions
Will I get a link?
You do not need to be sent a link to access the On Demand content.  You just need your email address and password that you used when you bought a ticket. For more help view the on demand page. If you chose e-ticket, its just a reminder to visit the on demand page when you want to access.   
How do I redeem a gift voucher?
When you are making an order, when you get to the order confirmation it will summarise your order then have a section called "Credit" and a box will be there to enter your Gift voucher code, and then click the redeem button. 
Do I have to watch it at 7.30PM?
You can watch the production at any time after 7.30PM on the 1 May right through to the 16 May as many times as you like!
Will there be an interval?
There is a short interval halfway through the production, whilst we can't send the ice cream seller to your home why not get some in for that interval tradition, we would love to see pictures of you enjoying the performance!
Can I pause and rewind?
Because the event is not live you can pause the content and rewind at any point.
£26 - £16
Tickets are £16.00 per device, however if you are able to purchase a ticket per viewer that would be a great support to the Kristian Thomas Company.
You can also make a donation on top of your ticket price to support the Kristian Thomas Company. This can be done by purchasing a ticket for £21 (£5.00 donation) or £26 (£10.00 donation).  
We think you might also enjoy...