This is a past event that has already taken place. Sorry if you missed it, find out about future events on our what's on page.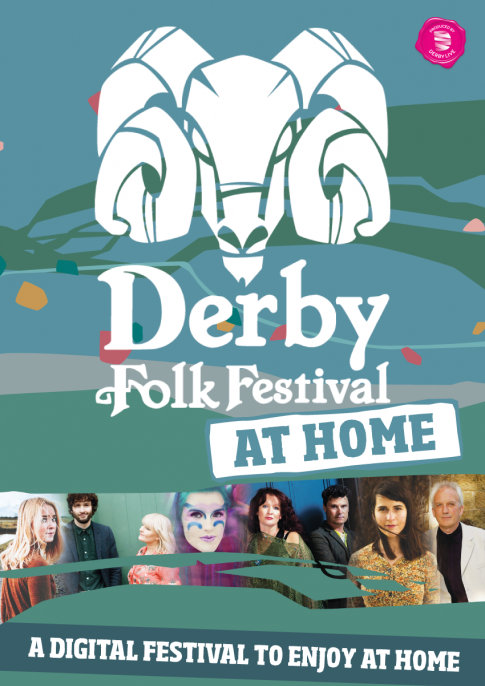 Derby Folk Festival At Home - Next day access
Stream accessible on demand from 5/10/20 until 11/10/20
Running Time: 3 hours - approximate, including any interval(s).
The Derby Folk Festival goes digital - catch up with fantastic music, filmed especially for you to enjoy for a whole week, it will directly support the artists performing, and ensures that the festival is able to return to the city centre once again in 2021.
Access the sessions the day after the live streaming. You will receive an invite to register and access the perfromance the day after the session within 24 hours. The sessions are available for 7 days following original broadcast. 
the festival cannot go ahead as planned in a way which is safe for audiences, musicians and crew. Instead, Derby LIVE are excited to announce that they have worked with artists and partners to put together a digital version of this much loved festival -  Derby Folk Festival At Home!
To get the weekend discount offer, put all four sessions in your basket, and the discount will be applied at the checkout
The online festival will take place on the same dates as the original event featuring concerts from many of the artists who were booked to appear in person in the city, including Barry Coope with Fi Fraser & Andy Cutting, Lucy Ward, Kathryn Roberts and Sean Lakeman, Winter Wilson, and Kitty Macfarlane, and a host of other wonderful performers.  
The concerts will be streamed in a curated series of four festival sessions, running for three hours each, with one on the Friday, two on Saturday and one on Sunday. Alongside the concerts, there will be lots of other content, such as interviews and more to keep you entertained, as well as free Festival Fringe events taking place on the Derby Folk Festival Facebook page.
Whilst you will only receiveone session invite per customer email address that you have registered with us, the Folk Festival team really appreciate all help to keep the festival and the artists going. If you are able, you will have the option to buy the number of tickets that matches the number of people who will be watching, and we are very grateful – but there is no obligation and we continue to appreciate all support from our Folk Festival community!  Thank you
Supporting the festival by buying a ticket will not only give you some fantastic music, filmed especially for you, to enjoy for a whole week, it will directly support the artists performing, and ensures that the festival is able to return to the city centre once again in 2021.
Line up
Session 1 - Fri 2 Oct 7pm 
THE LAST INKLINGS will be opening the first session, and we're delighted that they're going to be able to get together to record a set for us. We've really been enjoying their music through lockdown, and it will be fab to see them performing.
The second act in the Friday session are a "new" band, with some well known names behind it!  Please welcome Judy Dunlop, Jon Scaife and Nigel Corbett who come together as RARE OCCASION.  
Closing the first online session is one of our festival patrons - not just a great supporter of what we do, but an amazing songwriter and performer. Always an absolute delight - LUCY WARD
Session 2 - Sat 3 Oct 2pm
Saturday's first session opens with OLD SEA LEGS who will be delivering a powerful set, that we were really looking forward to seeing live!  
THE JELLYMAN'S DAUGHTER would have been coming to us with an expanded line up - the effects of lockdown make that project difficult to achieve, but we're thrilled that Emily and Graham are able to bring the gorgeous sound of their duo to our screens!
With a voice that we could listen to forever, we're very excited to have KITTY MACFARLANE "back" with us (after performing in the Old Bell last year), and are really looking forward to her set - we're sure you will be too...
Session 3 - Sat 3 Oct 7pm
BRYONY GRIFFITH & WILL HAMPSON kick things off for our third session, and this is a gig we didn't think we'd see!  With the lockdown situation making it impossible for the newly formed The English Fiddle Ensemble to get together, we asked Bryony and Will if they could dust off their brilliant duo for us!  
HARRI ENDERSBY is quite simply, a fabulously talented performer, and we're very much looking forward to seeing her (and Rich!) playing a set for us.
BARRY COOPE will continue to delight us this year, now joined by internationally recognised musicians, FI FRASER & ANDY CUTTING.
Session 4 - Sun 4 Oct 2pm
First up on festival Sunday is a concert from our American friends, CHIVALROUS CRICKETS. They've been keeping in contact, and whilst travel to the is obviously more than tricky, we're very excited that they're able to get together to record a gig for us
The festival wouldn't be the same without Kip and Dave, so you'll not be surprised to see WINTER WILSON on the list!  Their lockdown concerts have kept us going for weeks, and it will be fab to see them performing a special festival set for us all.
Bringing Sunday to a close are a duo who have been with us a few times in the past - they are always wonderful, so we were very pleased when they said they'd put a special festival concert together for us. They are... KATHRYN ROBERTS & SEAN LAKEMAN
We think you might also enjoy...