This is a past event that has already taken place. Sorry if you missed it, find out about future events on our what's on page.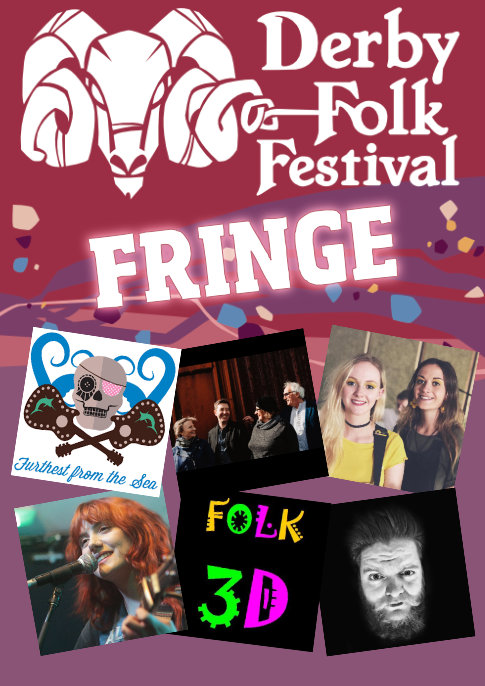 Music
Derby Folk Festival Fringe Supporter Tickets
Location: The Old Bell Hotel
Please refer to the Derby Folk Festival program for the fringe timetable.
Running Time: 11 hours - approximate, including any interval(s).
This year's Fringe events include music, dance, spoken word and more, and take place across both Saturday and Sunday.
Help support the ever-expanding fringe festival, with your ticket money going towards the costs of putting the events together.
Fringe Supporter Tickets
 Your Festival Fringe Supporter ticket will be exchanged for a wristband, and events will be held in the Ballroom of the Old Bell Hotel, on both Saturday and Sunday, and feature a range of artists,
Access to the Old Bell Ballroom events will be limited by capacity, so if a particular concert spot is full, you'll still be able to get into the Market Place, or return for other events in the Old Bell.
Line-up
Sat – music during the day from Kelsey Shaw, Arbrevyn, and then in the evening from The Sunflower Thieves; a spoken word show from Rob Stamper, and the annual heat of the John Birmingham Cup song competition.
12pm Kelsey Shaw
1pm Arbrevyn – vocal harmony trio with songs from Cornwall, Derbyshire and more!
2pm Ellie Gowers – fabulous vocals and guitar from a fast-developing star of the scene
3pm Rob Stamper – spoken word show "Chips, The Universe & Everything".
6.30pm John Birmingham Cup Song Competition – new songwriting, with guest judges.
9pm The Sunflower Thieves – amazing duo with ethereal vocal harmonies and honest lyrics.
Sun – will have music and dance throughout the day, including the wonderful Narthen, and then a great set from Old Sea Legs to close the whole festival.
1pm Mel Biggs – instrumental music from the super talented Mel
2pm Baggaley & Varnam – a new pairing of very talented and experienced acoustic music players
3.15pm Spoken Word Extravaganza – with Daron Carey and friends
5.30pm Narthen – Barry Coope, Fi Fraser, Jo Freya and Jim Causley… simply, superb!
9.30pm Old Sea Legs – Ian Bermingham (ex The Eskies) with his brilliant solo show
Wristbands
Please remember to exchange your Festival and Fringe tickets for wristbands at the Folk Festival Box Office in the Derby Market Place Alfresco Dining Area.
Friday 6pm to 10.30pm for Weekend and Friday night ticket holders
Saturday 10am to 10.30pm for Weekend and Saturday ticket holders
Sunday 10am to 10pm for Weekend and Sunday ticket holders
If you have bought a Student or under 16 ticket, please bring along your ID. We accept NUS and valid Student photo ID cards, and orange coloured b-lines, passports and birth certificates as proof of age.
The Derby Folk Festival Fringe
There will also be dance teams on the streets, and a laid-back festival atmosphere (with a bar!) in the Market Place alfresco area!
There's our usual, and informal session too, which takes place in the Old Bell Tudor Bar (whenever you want to play or sing!)
Full programme coming soon
Folk Fun Palace
Our friends at Derby Museums have a great event lined up for Friday in the Museum of Making, as they're presenting a "Folk Fun Palace". You'll find music, dance, and workshops including some great activity from FOLK3D.
Partners
The fringe is supported and shaped by the amazing organisations Folk 3D, and Furthest From The Sea – both working with grassroots artists to develop and showcase talent.
We think you might also enjoy...