This is a past event that has already taken place. Sorry if you missed it, find out about future events on our what's on page.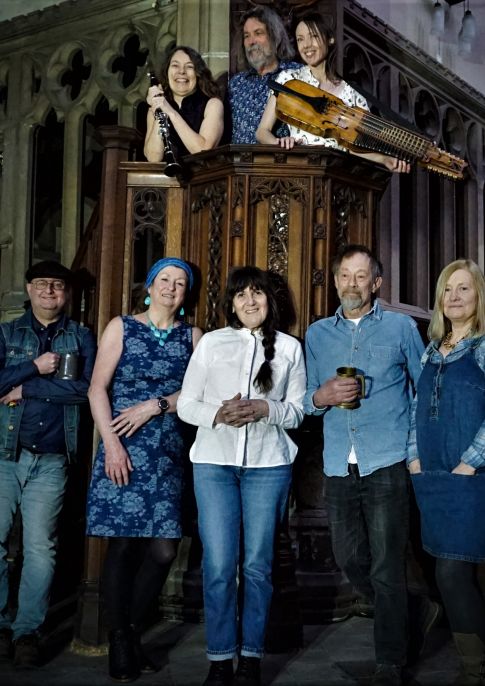 From Pub to Pulpit
Ralph Vaughan Williams 150th Anniversary Concert
Location: Derby Cathedral
From Pub to Pulpit is a celebration of Ralph Vaughan Williams' 150th anniversary, and includes music from Broomdasher, Coracle, and the Cathedral's own choristers.
An acapella folk group, a classically trained instrumental trio, twenty cathedral organists and choirs, community choirs, and concert audiences will turn folk songs into hymns in a flagship nationwide tour.
From Pub to Pulpit is an imaginative and rousing concert tour that brings to life the musical journey of folk sings Vaughan Williams collected before "borrowing" the tunes for hymn arrangements in The English Hymnal he edited in 1906.
This event is also the only project that crosses the boundaries of Vaughan Williams's work, bringing several genres together in a popular and accessible way, so is definitely not one to be missed!
Vaughan Williams was a well-known collector of folk songs and he borrowed folk song tunes he collected from labourers around the country for the tunes of some of the best hymns in the 1906 English Hymnal he edited.
In the final part of the concert, Broomdasher and Coracle take the audience on a musical journey, starting with the folk song, going through dance variations and climaxing with everyone raising the roof with full-blooded renditions of the hymns.
They include "To Be a Pilgrim", "Tis Winter Now the fallen Snow" and "I Heard the Voice of Jesus Say" which will be musically transformed from the folk songs "Our Captain Calls", "Brisk Young Farmer" and "The Murder of Maria Marten.
The other sections of the concerts feature individual sections by Derby Cathedral Choir, directed by Alexander Binns;  Broomdasher and Coracle.
£15 - £5
Concessions:
£15
Click Buy Tickets to see what concessions are available for this event, and for more price information and availability. Children 12 months and over require a ticket, unless otherwise stated. Proof of entitlement to concession may be required on collection of tickets or on entry to the event.
Book your weekend tickets before 31 Jul to take advantage of the early bird offer of £12 (full price £15). 
Tickets for From Pub to Pulpit can be added to the weekend Folk Festival ticket for £5.
Get an under 16s ticket free with the purchase of an adult ticket - must add the under 16s ticket to basket too. 
Offers
Take advantage of one of the following great offers for this event.
Folk Weekender Discount - Under 16's
If you hold a membership subscription you may be eligible for discounts. Log in and these will be applied to your order automatically.
We think you might also enjoy...