This is a past event that has already taken place. Sorry if you missed it, find out about future events on our what's on page.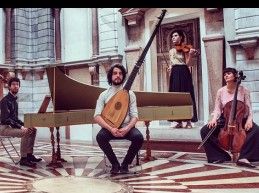 Michelangelo's Pietà
Location: Derby Cathedral
Seating is on a first come first served basis
Running Time: 1 hour - approximate, including any interval(s).
This event is promoted by La Vaghezza, Derby LIVE are pleased to act as a ticket agent.
La Vaghezza is a dynamic group of internationally award winning young musicians who have quickly become one of the most sought after chamber ensembles in the international festival scene. They are joined by Mezzo Soprano Lotte Betts Dean, a singer who is rapidly rising to intercontinental fame, praised for her irrepressible sense of drama and velvety tone. Join them for a transformative experience full of luscious sounds from the 1600's, instrumental and vocal music from another world.
The programme is inspired by a pivotal icon in Western culture and spirituality – the Virgin Mary. Michelangelo's sculpture known as La Pietà is an unforgettable rendering of the Madonna – holding her dying son in her arms, this single infinite gesture of maternal love shows her bowing to destiny. It is through the words hidden behind her silence that the music of this programme is born, recreating the singular relationship between mother and son, full of love and suffering
Programme :
Biber Annunciation, from the Rosary Sonatas
Merula Hor che è tempo di dormire, Fuge et veni dilecte mi
Byrd Pavane and Galliard from the Fitzwilliam Virginal Book
Purcell The blessed Virgin's expostulation, Z 196
Marini Sonata 'La Variata', Op 8
Cima Sonata a violino e violone, 'Concerti Ecclesiastici'
Donati O gloriosa Domina
Michi Ninna nanna alla napolitana
We think you might also enjoy...