This is a past event that has already taken place. Sorry if you missed it, find out about future events on our what's on page.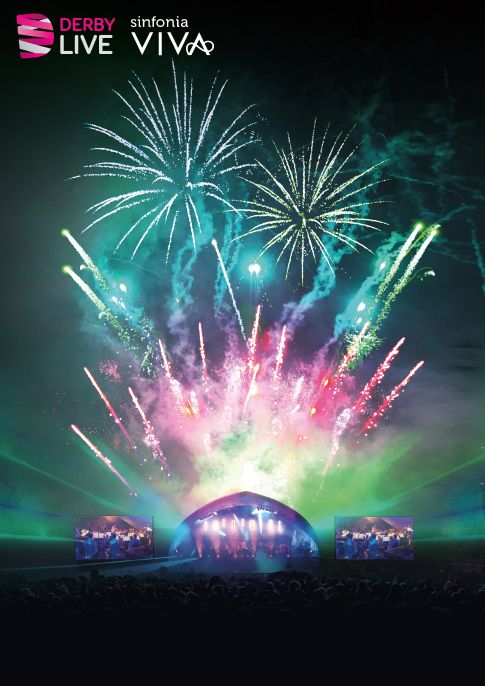 The Darley Park Concert 2022
Gates open at 2PM, the event starts at 6PM
Running Time: 3 hours - approximate, including any interval(s).
An evening of classical music and fireworks – don't forget your picnic!
Come along and be part of one of the UK's biggest outdoor classical concerts with Sinfonia Viva, supported by Rolls-Royce, in the stunning natural amphitheatre that is Darley Park.
We are celebrating a year of anniversaries from the Queen's Jubilee to Sinfonia Viva's 40th with music from the Queen's Coronation and music from the Royal Fireworks and much more.
Conducted by James Holmes. A former ENO staff conductor, James Holmes has enjoyed a variety career that straddles opera and muscial theatre. He has become well-known in recent years for classic Broadway musicals, in particular the work of Sondheim and Kurt Weill.  He is delighted to renew once again a long-standing association with Sinfonia Viva and the annual Darley Park concert
Joining James Holmes on stage are soloists, soprano Helen Power. Helen trained at Mountview Academy and, alongside her musical theatre career, has performed in concerts all over the world. As soprano soloist with Bravo Amici, she has toured China; performed at The Moscow International Music House, accompanied by Moscow State Symphony Orchestra and performed several concerts in the USA, London and Sardinia.
Baritone Dan Gill. Dan Gill is a baritone, actor, singer and voice actor who trained at Mountview Academy. In 2022 he appeared in Mountview's production of Legally Blonde and in 2021 in their production of Les Misérables.
To celebrate their 40th anniversary, Sinfonia Viva will also be performing a brand-new commission supported by PRS Foundation's The Open Fund, written by composer Preetha Narayanan, a violinist, composer and educator with a unique musical story that crosses countries, cultures, and genres. The new piece titled 'Drifting Tides; explores our inner connection and our relationship to nature and the importance of preserving it.
Food and drink
As usual we're happy to allow you to bring your own food and drink (including alcohol) to the weekend's events. There will also be a range of food and soft drinks available to buy on site. However please be aware that this year alcoholic drinks will not be on sale on site.
Timings and Programme
2pm Gates Open
6pm Welcome and speeches
6.20pm Derby Jazz - Music from local jazz musicians; Matt Ratcliffe: keyboards, Jeff Brown: trumpet, Gary Reader: saxophone and Tymek Jozwiak: drums. BLUE FUNK, commissioned by Derby Jazz to play in parks in and around Derby.
7pm  Sinfonia Viva act 1: 
Crown Imperial, composed by Walton - Instantly recognisable, this is an orchestral march by William Walton, that was commissioned in 1937 for the coronation of King George VI in Westminster Abbey. Subsequently the work has been played at many state occasions in the Abbey including the coronation of Queen Elizabeth II in 1953 and the 2011 wedding of Prince William.
English Folk Song Suite: Seventeen Come Sunday, composed by Vaughan Williams - One of English composer Ralph Vaughan Williams' most famous works, this suite was first published to be performed by a military band as 'Folk Song Suite' and was premiered in 1923 at Kneller Hall. Upbeat and stirring, this piece is another celebratory moment, that perfectly encapsulates the joy of the Jubilee year.
Drifting Tides, composed by Narayanan – commission celebrating Viva's 40

th

 Birthday.
A Man of No Importance: The Streets of Dublin, composed by Ahrens/Flaherty - Taken from the musical 'A Man of No Importance' with music by Stephen Flaherty, lyrics by Lynn Ahrens and a book by Terrence McNally – it is all based on the 1994 Albert Finney film. Telling the story of a Dublin based amateur theatre group and their fearless leader, who despite objections from the church authorities, is determined to stage a version of Salome at his church.
Characteristic Waltz No.2 - Valse Rustique, composed by Coleridge-Taylor - Although born in 1875, Coleridge-Taylor's work has been making waves, with his determination to fight racial prejudice in both Britain and America only matched by the emotionally beautiful and moving quality of his work. His Four Characteristic Waltzes (of which this is the second), are thought to have been written early in 1898 and published in 1899. 
I Could Have Danced All Night, composed by Lerner & Loewe - Time to get up and have a bop! This is a classic sing-along song from the musical My Fair Lady, with music written by Frederick Loewe and lyrics by Alan Jay Lerner that was published in 1956. Sung by the musical's heroine, Eliza Doolittle is singing her heart out with exhilaration and excitement after an unexpected dance in the small hours of the morning with her tutor Henry Higgins.
Kings & Queens suite: Elizabeth II, composed by Debbie Wiseman - Debbie Wiseman OBE pays a special tribute to The Queen on her 95th birthday with this wonderful piece and album 'The Music of Kings & Queens', the soundtrack album for the Royal birthday celebrations. This beautiful piece celebrates Queen Elizabeth II.
Phantom: All I ask of You, composed by Lloyd Webber - Who's that hiding in the rafters? From Andrew Lloyd Webbers 1986 show Phantom of the Opera, in which soprano Christine Daaé becomes the obsession of a mysterious musical genius wearing a mask and living in the subterranean labyrinth beneath the Paris Opéra House.
Pomp and Circumstance March No.4, composed by Elgar - The Pomp and Circumstance Marches are a series of marches for orchestra composed by Elgar. This one is the most well-known of the marches.
7.55pm  Sing Viva Carers Choir A programme of Well-known songs performed by carers from Derby and Chesterfield directed by Pete Lack and accompanied by Sinfonia Viva musicians Charlie Penn, Tim Gunnell and Dave Ayre.
8.25pm  Sinfonia Viva act 2:
London Suite: Knightsbridge March, composed by Coates - The London Suite, also known as London Every Day, is a suite of orchestral music by the English composer Eric Coates. 'The Knightsbridge March' was also the theme tune for BBC's 'In Town Tonight' radio show broadcast between 1933 – 1960.
Nimrod, composed by Elgar - Taken from Elgar's Variations on an Original Theme, Op. 36, which is also known as the Enigma Variations. Nimrod is one of the fourteen variations on an original theme that make up the work, with Nimrod arguably being the most popular and well-known.
Music from the Royal Fireworks: La Rejouissance, composed by Handel - So it's not quite time for the fireworks yet, but here's a bit of musical spectacle that will certainly go off with a bang! Composed by Handel in 1749 after King George II asked him to write the piece to set alongside fireworks to celebrate the Treaty of Aix-la-Chapelle. A joyous piece of music that makes the hairs stand up!
Summertime, composed by Gershwin - It's time to sizzle with this seasonal classic. 'Summertime' is an instant feel-good classic, composed in 1934 by George Gershwin for the 1935 opera Porgy and Bess. The lyrics are by DuBose Heyward, who is the author of the novel 'Porgy' which was the basis for the opera. So sit back, enjoy the vibe and relax. This is still arguably one the most recognised and beloved songs ever created.
Chariots of Fire, composed by Vangelis - A moving and stirring piece that conjures images of the film 'Chariots of Fire.' Released in 1981 this piece is taken from the score by electronic composer Vangelis for the British film, which went on to win four Academy Awards including Best Picture and Original Music Score.
ET: Flying Theme, composed by Williams - Legendary film Composer John Williams is 90 is 2022! So we're celebrating by performing a selection of his best known works. ET's Flying Theme is unmistakable, moving and captures the magic of the 1982 film perfectly.
It's De-Lovely, composed by Porter - It's time for some Cole Porter. 'It's De-Lovely' originally appearing in his 1936 musical 'Red Hot and Blue' and was later used in the musical 'Anything Goes,' first appearing in the film version from 1956, when it was performed by Mitzi Gaynor and Donald O'Connor.
City of Angels: The Tennis Song, composed by Coleman/Zippel - 'City of Angels' is a musical comedy film with music by Cy Coleman, lyrics by David Zippel, and a book by Larry Gelbart. Telling two stories simultaneously, the musical weaves together two plots. These are a story of a writer trying to adapt his novel into a screenplay and the world of the film he is writing. The musical is a beautiful homage to the stylised film noir motion pictures of the 1940's.
Don't Stop Me Now, composed by Mercury - It's party time with this classic piece of Queen released in 1978 on the album Jazz. Let it all hang out and get to your feet and get your pool cues ready, with this guaranteed party starter of a track!
Star Wars: Imperial March, composed by Williams - More from John Williams here with a marching piece that's out of this world. Imperial March first appeared in The Empire Strikes Back in 1980 and still fills us with dread!
Star Wars: Throne Room and End credits, composed by Williams - John Williams ensured the classic status of 'Star Wars - A New Hope' with his stirring score and the final scene and credits were the perfect send off to the film, helping solidify it in film and popular culture history.
 9.10pm Fireworks
Parking
Chapel Street car park and Assembly Rooms car park are the official parking venue for The Darley Park Weekender! 24-hour parking for just £4, simply pay on exit with cash or card.
Assembly room car park directions
Chapel Street car park directions
Separately from the DCC car parks, there is also Car parking available at St Benedict Catholic Voluntary Academy for £5 cash on a first come first served basis. We recommend arriving early.
Limited parking for Blue Badge Holders only at Darley Village car park next to the cricket club.
The Darley Park Weekender Partnership
Helping to make the Darley Park Weekender possible, including Darley Park Concert are our sponsors Meridian Business Support, RDS, Huub and Project D.
£8.50
Concessions:
£3.50
Click Buy Tickets to see what concessions are available for this event, and for more price information and availability. Children 12 months and over require a ticket, unless otherwise stated. Proof of entitlement to concession may be required on collection of tickets or on entry to the event.
Tickets bought by 31 Jul
Standard £4
Under 16s £1
Tickets bought from 1 Aug to the day before the concert
Standard £6
Under 16s £3.50
Tickets bought on the day of the concert
Standard £8.50
Under 16s £3.50
Please note under 16s is the only concession available for this event - under 16s must have proof of age with them on the day. In line with our standard terms and conditions, under 14s must be accompanied by a paying adult aged 18 or over.
We think you might also enjoy...