This is a past event that has already taken place. Sorry if you missed it, find out about future events on our what's on page.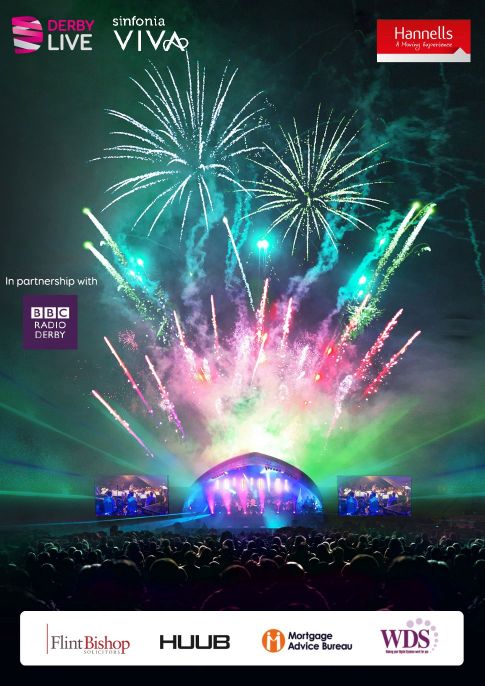 Classical
The Hannells Darley Park Concert 2021
Gates open at 2pm, the event starts at 6pm
Running Time: 3 hours - approximate, including any interval(s).
An evening of classical music and fireworks – don't forget your picnic!
Come along and be part of one of the UK's biggest outdoor classical concerts with Sinfonia Viva, supported by Rolls-Royce, in the stunning natural amphitheatre that is Darley Park. 
Sinfonia Viva are back, supported by Rolls-Royce, with accomplished conductor James Holmes. The theme for this year's concert celebrating Derby Silk Mill and Derby's 300-year history of technological innovation. We're pleased to welcome back talented soloist Mary Carewe to lead the vocal numbers. 
The Hannells Darley Park Concert is supported by Hannells, HUUB, Mortgage Advice Bureau, WDS and our media partner, BBC Radio Derby.
Customer information and FAQs
For all sorts of useful information about access, parking, what you can and can't bring to the event and so on, be sure to check out the event information and FAQs page before you head down to the park!
Timings
12 noon Car parks and Box office points open
2pm Gates open
6:15pm Concert begins
8:30pm Box Office points and entrance gates close
8:30pm-9:30pm Sinfonia Viva (fireworks starting just after 9:15pm)
9:30pm Concert ends
*Timings are approximate, please do allow plenty of time and be prepared for extra security measures. We respectfully ask for your cooperation on bag searches and approaches from security personnel to ensure everyone's safety and comfort.
Programme - Celebrating Derby's 300-year history of making and innovation
6:15pm Hot House Saxophonix
7pm - 8pm Sinfonia Viva
Tchaikovsky Polonaise from Eugene Onegin - From Tchaikovsky's opera 'Eugene Onegin' referring to the opera's protagonist and lead character. It was first performed in Moscow in 1879 and has since become a classic.
ArnoldEnglish Dances second set no.1  - Composed by Arnold in 1950, this is a beautifully light and uplifting piece of classical music. Well-known as the theme tune to "What the Papers say"
Coleridge-Taylor Valse de la Reine (Characteristic waltz No.3) - Samuel Coleridge-Taylor was an English Composer and Conductor born in 1875 in London to Alice Hare Martin, an English woman, and Daniel Peter Hughes Taylor, a Krio from Sierra Leone who had studied medicine in the capital. This piece is a beautiful example of why he was so popular and so well regarded.
Gershwin They all laughed - composed by George Gershwin, with lyrics by Ira Gershwin, written for the 1937 film 'Shall We Dance.' The song was sung by Ginger Rogers as part of a song and dance routine with Fred Astaire.
Carol King You've got a friend - Written by Carol King and featuring on her classic album Tapestry, this instantly recognisable song was also covered in the same year by James Taylor and became a huge hit. A fantastic 'sing-along' anthem.
Strauss Thunder and Lightning Polka - From the king of the Viennese waltz comes this fiery number that instils the glitz and the glamour of the dance floor.
Penguin Café orchestra Perpetuum Mobile - Recognisable from TV and film this piece is the first in the programme that has been inspired by Derby's 300-year history of making and innovation and celebrates the opening of Derby Museums, Museum of Making in 2021. This musical timepiece has a metronomic feel, as musical cogs work in perfect harmony to push the piece along with a catchy melody and insistent, pulsing momentum. It's musical machinery in action.
Wagner Spinning Chorus – We continue to celebrate Derby's industrial heritage and the Silk Mill in particular with the Spinning Chorus from Wagner's Opera "The Flying Dutchman": "Whir and whirl, good wheel, gaily, gaily turn! Spin, spin a thousand threads, good wheel, whir and whirl!"
Coates Dambusters - Following on from this theme we move to the theme of flight and Sinfonia Viva's friends and supporters Rolls-Royce. With this instantly recognisable theme taken from the film of the same name, we hear all of the drama of 'Operation Chastise' that took place on 17 May 1943 during World War II. Here a Royal Air Force squadron attack the German dams using a purpose-built "bouncing bomb.
8:05pm The Dalesman Male Voice Choir
8:30pm - 9pm Sinfonia Viva
Rossini Galop from the William Tell Overture - With the opening of the next half, we start with an instantly recognisable fanfare. From the very first note, this piece goes from a gallop to a sprint.
Shostakovich Tea for Two - An uplifting song that skips along and makes everyone smile.
Williams ET flying theme - A high flying classic from Stephen Spielberg's seminal film from 1982.
Williams Superman March - Another high flyer of a tune, played as a tribute to NHS staff and all key workers who made such a huge difference and were such an inspiration during the last year.
Arlen Somewhere Over the Rainbow - A moving rendition of this instantly recognisable song, from 1939 classic the Wizard of Oz.
Bacharach Always Something There to Remind Me - A song made famous by Sandy Shaw in the mid-sixties, this is one to get up and dance to.
Adele Skyfall - With the delayed release of the new James Bond this year, now seems like the perfect time to relive a classic, with Adele's explosive anthem.
Mercury Bohemian Rhapsody - A bit of a Darley Park classic here. Last performed four years ago, this song needs no introduction.
Offenbach Overture to Orpheus - Taken from the comedy opera 'Orpheus in the Underworld' by Jacques Offenbach, this dramatic piece scores the operatic wails of fireworks as the Hannells Darley Park Concert comes to its dramatic finale. A truly epic piece of music to enhance the always spectacular fireworks display.
View the social media wall 
#Darley21
£8.50
Concessions:
£3.50
Concessions are typically available to over 60s, under 16s, students, unemployed and disabled people. Click Buy Tickets to see what concessions are available for this event, and for more price information and availability. Children 12 months and over require a ticket, unless otherwise stated. Proof of entitlement to concession may be required on collection of tickets or on entry to the event.
SAVE MONEY BY BUYING IN ADVANCE
Tickets bought by 31 Jul
Standard £4
Under 16s £1
Tickets bought from 1 Aug to the day before the concert
Standard £6
Under 16s £3.50
Tickets bought on the day of the concert
Standard £8.50
Under 16s £3.50
Please note under 16s is the only concession available for this event - under 16s must have proof of age with them on the day. In line with our standard terms and conditions, under 14s must be accompanied by a paying adult aged 18 or over.
Offers
Take advantage of one of the following great offers for this event.
LIVEsaver 2
Buy standard tickets for 2 selected events in one transaction to save 10%
Visit our
LIVEsaver page
for a full list of LIVEsaver events.
LIVEsaver 3
Buy standard tickets for 3 selected events in one transaction to save 15%
Visit our
LIVEsaver page
for a full list of LIVEsaver events.
LIVEsaver 4
Buy standard tickets for 4 LIVEsaver events to save 20%
Visit our
LIVEsaver page
for a full list of LIVEsaver events.
If you hold a membership subscription you may be eligible for discounts. Log in and these will be applied to your order automatically.
We think you might also enjoy...