This is a past event that has already taken place. Sorry if you missed it, find out about future events on our what's on page.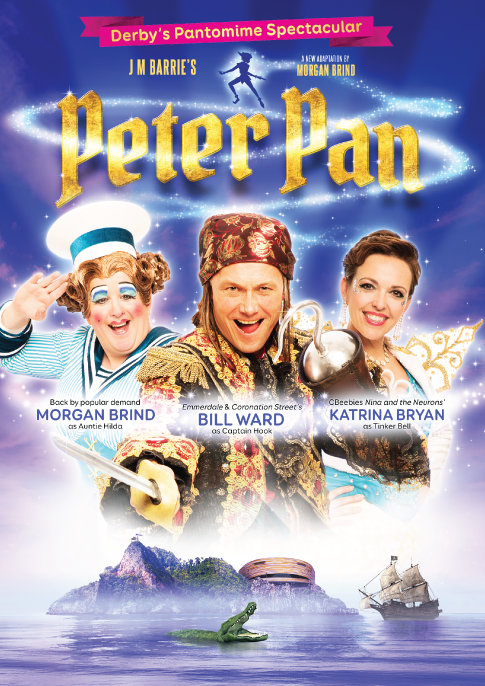 Running Time: 2 hours 20 minutes - approximate, including any interval(s).
Join us for an awfully big adventure this Christmas as a brand new swashbuckling pantomime sets sail for Derby Arena.
Back by popular demand, Best Dame nominee MORGAN BRIND, Emmerdale and Coronation Street's BILL WARD as Captain Hook and KATRINA BRYAN from CBeebies' Nina and the Neurons and Molly & Mack as Tinker Bell. Read more here. 
Peter, Tinker Bell, Wendy and a very odd looking woman, who refuses to grow up, are in for a high-flying action-packed adventure. The lost boys and musical mermaids will take on some very potty pirates and the most dastardly villain of them all – Captain Hook!
Second star to the right and straight on till morning! The team behind Beauty and the Beast and Jack and the Beanstalk are back to fly you to magical Neverland. With spectacular effects, barrel loads of laughs, jokes that grab you hook, line and sinker, and more than a sprinkling of fairy dust, this promises to be the perfect PAN-to.
The croc is ticking. Hook your tickets now!
Additional information
Why not start off your Christmas Pantomime treat with a choice of great restaurants, right on the doorstep of Derby Arena, including a FREE PARKING offer at The Yard when you reserve a table - T&Cs apply.
Visit our additional information page for essential information on:
Derby Arena Car Parking
Searches, security and prohibited items
DCFC football matches
Access Performance
Download our Relaxed Performance guide here. If you are visiting for an education visit - you can download our Peter Pan activity pack on our schools page here.
If you wish to make a celebration or birthday "shout out" - please speak to a member of the Front of House team at the programme and information point in the foyer before the show starts.
Important information about your visit
Due to the ongoing A52 Wyvern Transport Improvements, your journey to Derby Arena may be affected.
The Wyvern to A52 westbound on-slip road will be closed for 13 months from Monday 3 June 2019.
£31.50 - £13.50
Concessions:
£29.50 - £13.50
Concessions are typically available to over 60s, under 16s, students, unemployed and disabled people. Click Buy Tickets to see what concessions are available for this event, and for more price information and availability. Children 12 months and over require a ticket, unless otherwise stated. Proof of entitlement to concession may be required on collection of tickets or on entry to the event.
Early bird offer
Discount of £2 per ticket for tickets bought before Fri 1 Nov has already been deducted from the prices displayed on the website. Any other offers (e.g. family ticket or group discount) will be deducted at the checkout.
Advance Programme Offer
Save £1 by buying your panto programme before Fri 1 Nov.
You will be able to purchase your voucher when you click through to your basket screen. Exchange your voucher for a programme at Derby Arena on the day of the performance.
VIP Meet the Cast experience
We have a limited number of VIP Meet the Cast experiences for our Sat 14 Dec, 6.30pm performance. The experience includes complimentary programme and your chance to meet the cast in an after-show drinks reception. Tickets are £20 (£12 concessions) on top of the price of your ticket to the show. Select VIP experience tickets after you've selected tickets for the Sat 14 Dec, 6.30pm performance.
Offers
Take advantage of one of the following great offers for this event.
LIVEsaver 2
Buy standard tickets for 2 selected events in one transaction to save 10%
Visit our
LIVEsaver page
for a full list of LIVEsaver events.
LIVEsaver 3
Buy standard tickets for 3 selected events in one transaction to save 15%
Visit our
LIVEsaver page
for a full list of LIVEsaver events.
LIVEsaver 4
Buy standard tickets for 4 LIVEsaver events to save 20%
Visit our
LIVEsaver page
for a full list of LIVEsaver events.
If you hold a membership subscription you may be eligible for discounts. Log in and these will be applied to your order automatically.
"Go and see this pantomime, if you can: it's an awfully big adventure, and a festive treat that you won't beat this Christmas." Derby Telegraph

"Peter Pan is a panto that soars above the rest and has the arena buzzing with excitement from start to finish." Derbyshire Times

 "…..a magical night out with your family…." Artsbeat

 ★★★★1/2 "….it was brilliant, the smiles on my children's faces … made it worth every penny." WhatsGoodToDo.com

"In the role of Hilda, Brind has surely earned his place in the Great Hall of Dame" British Theatre Guide

"Entertaining and warm …  There's slapstick and exuberant choreography" The Stage

"…..an excellent family show that is suitable for young and old." Theatre Online Facebook

 "….a fabulous family night out." Derby Days Out

 "…..absolutely captivating for the little ones with glittering stage sets, special effects, fabulous costumes, marvellous singing and wonderful dancing!" Lots for Tots Derby

 "A really good amusing family show that got us feeling Christmassy." Boom Magazine Belper Facebook

 "Another amazing performance …." Raring2go Burton upon Trent and Ashby de la Zouch

"….. jokes to suit all ages, and a lovely feel good feeling as we left the Arena." Nailed Community – Belper Independent News
Reviews for Jack and the Beanstalk 2018
"the finest pantomime I have ever seen" – artsbeat ★★★★★

"dazzling and thoroughly engaging" – The Stage ★★★★

"it's a happy, sing-a-long fun night out for the children!" – What's good to do

"Plenty of laughs for all ages, local references, faaabulous costumes.. the panto dame surpassed herself! Great songs, Duncan off of Blue... what more could you want?!"Lots for Tots

"This has to be the most gag-packed panto in history. With slapstick, schtick, nonsense, spectacle and hilarity – you cannot fail to be wowed by the end." Celebrity RadioYouTube review ★★★★

"With its bouncing energy and a whole heap of panto silliness, Jack and the Beanstalk has the arena buzzing with excitement from start to finish." Buxton Advertiser

 

"Jack and the Beanstalk is spectacular in every sense of the word"  British Theatre Guide

"Entertaining until the very end" Raring 2 Go
Reviews for Beauty and the Beast 2017
"The glittering set was lavish and spectacular…." Artsbeat

"….our cheeks are still hurting from laughing so hard and for so long!" Derby Days Out

"Warm-hearted and lavish panto…." The Stage ★★★★

"Beauty and the Beast was full of humour, gorgeous singing and dancing with a fabulous glittery set and costumes. Highly recommend !!" Boom Magazine Belper

"Boos and hisses in all the right places." Derby Telegraph

"…a fantastic production full of exuberant and slick performances, local gags galore, laugh-out-loud moments, hilarious slapstick and impressive stunts all bound together with a great storyline that sticks close to the fairy tale that we all know and love."  Burton Mail

"….a production that is strong on story and offers many a magical moment." British Theatre Guide
We think you might also enjoy...