This is a past event that has already taken place. Sorry if you missed it, find out about future events on our what's on page.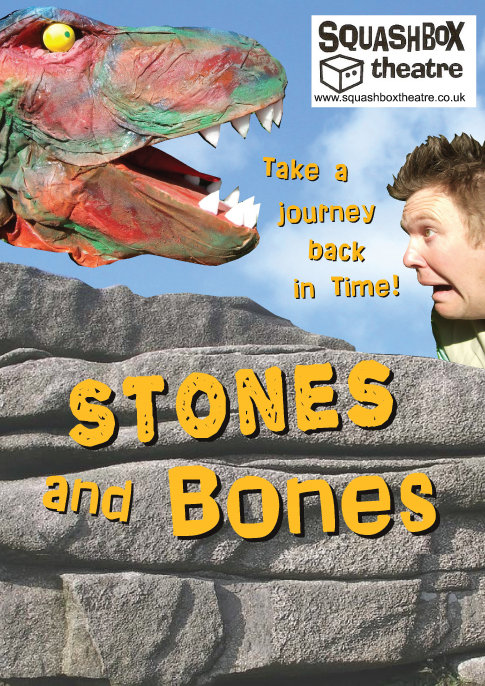 Location: Markeaton Park - Craft Village
This is an outdoor performance so please dress appropriately for the weather
Running Time: 1 hour - approximate, including any interval(s).
Find out all about archaeology and fossils, say hello to one of your stone-age ancestors, hear stories of giants and wizards, see a volcano erupting before your very eyes, and maybe even glimpse a dinosaur or two…
Come on a journey to Ancient Cornwall…
A land of fiery volcanoes and strange prehistoric creatures…
A land of myth and legend, giants and druids…
A land of ancient stone circles and mysterious monuments…
A land of Stones and Bones…
Squashbox Theatre's new show is a marvellous mix of history and mystery!
There will be thrills and spills galore, but also lots of laughs, plenty of puppets, songs, slapstick, tall tales and crazy characters – all presented in that unique Squashbox style!
FAQ
View answers to frequently asked questions and customer information here.
Catering
Why not pre-order one of the following food options with your tickets? You will be able to collect your freshly prepared order when you arrive at the Markeaton Park Craft Village from The Orangery Café. Orders can be ordered up to 5 days before the performance. Hot and cold drinks and a limited food selection will be available to purchase during the performance.
Pizza Platter £10.50
11" margherita or pepperoni pizza, garlic bread and chunky chips.
Outdoor Tea £10.50
Tea or coffee, a meat or vegetarian sandwich selection and 2 slices
of cake. Suitable for 2 people.
Let us know of any dietary requirements when booking.
A selection of wines, beers, spirits and soft drinks.
£9
Offers
Take advantage of one of the following great offers for this event.
LIVEsaver 2
Buy standard tickets for 2 selected events in one transaction to save 10%
Visit our
LIVEsaver page
for a full list of LIVEsaver events.
LIVEsaver 3
Buy standard tickets for 3 selected events in one transaction to save 15%
Visit our
LIVEsaver page
for a full list of LIVEsaver events.
LIVEsaver 4
Buy standard tickets for 4 LIVEsaver events to save 20%
Visit our
LIVEsaver page
for a full list of LIVEsaver events.
If you hold a membership subscription you may be eligible for discounts. Log in and these will be applied to your order automatically.
"Slick, original and funny, Stones and Bones is a one man whirlwind tour of prehistoric Cornwall, and is a must see for all Dinosaur lovers, young and old alike." Sophia Richards, guide2bristol.com

"Craig's success lies in the fact that he talks to, rather than at, his young audience, and he does it all with a huge sense of joy and fun that is as inspiring as it is infectious. An engaging entertainer to be treasured." Frank Ruhrmund, The Cornishman

 "Craig Johnson is totally at ease with his audience, adult and child alike, and combines an innate understanding and delight in storytelling with fantastic comic and musical skill." Mike Shepherd, Founder and Artistic Director, Kneehigh Theatre
We think you might also enjoy...