This is a past event that has already taken place. Sorry if you missed it, find out about future events on our what's on page.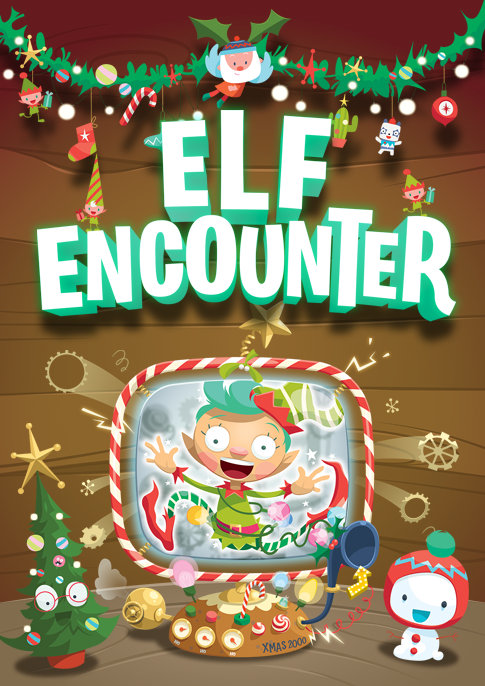 Location: The Market Place
This event will operate in line with government guidance for COVID-19 at the time of the event
Running Time: 15 minutes - approximate, including any interval(s).
Join those festive funsters the Babbling Vagabonds as they unwrap a mini festive adventure fit for the family.
Following the announcement regarding Tier 3 restrictions in Derby and Derbyshire, we have reviewed our options for Elf Encounter and other affected Festive Derby events.
We are really pleased that the Elf Encounter has been passed as being able to go ahead, and we look forward to seeing you all soon!
We've also worked on a digital version of the show, Elf Encounter - At Home, so that anyone who can't make it to the magical machine, can have it transported directly to them! Even if you've visited the elves in person, this is a great way to take some of the magic home.
Journey in a magical Christmas machine and encounter an Elf with a talent for making trouble. Santa's magical machine turns children's letters into presents - all with a little sprinkle of elf trickery of course – but one day, with Christmas just around the corner, the machine breaks down. Can you help get Santa's machine back on track, and get a naughty Elf back on the nice list?
An intimate, exclusive Christmas treat just for you and your group of up to 6!
Includes an Elf activity booklet for every child, and optional group photo (£3, extra prints £2) - Buy photos when booking tickets or buy photos here.
Read our Christmas Frequently Asked Questions
Book for Elf Encounter at Home for only £6 (the discount can be applied when you have both in your basket, or if you return to buy). 
Access
If you would like to book one of the BSL sign interpreted performances, please email the Sales and Information team at boxoffice@derby.gov.uk or contact us using TypeTalk on 18001 01332 255800 or deaf people can text on 07812 301 233.
All performances provide an opportunity for customers who may find it difficult to come and see a show to experience the joy of live theatre. It is just your group at the show, and we can provide a less formal, more supportive atmosphere in order to reduce anxiety levels. No-one will mind if you make a bit of noise or move around. We are happy to make changes to the sound levels, lighting and special effects for your performance, please tell us when booking if we can do anything to ensure you can all enjoy the show. We'll also be providing a guide on what to expect when you attend. 
There are no steps into The Elf Encounter, and there is a hearing enhancement loop system you can use. There is a Changing Places toilet in the Council House (Mon to Fri 9am-5pm), and Derby Market Place offers accessible toilets.
If you or one of your group have a visual impairment a short audio introduction to the Elves' grotto is available at the start of the performance and the performance will be specially adapted. Let us know when you book if you would like to access these adaptations.   
Please do let us know if you have any access needs and we will do our best to meet them, for example, if you would like us to avoid sudden lighting or sound effects, if you are using a wheelchair, or you will be bringing an assistance dog.
We think you might also enjoy...