This is a past event that has already taken place. Sorry if you missed it, find out about future events on our what's on page.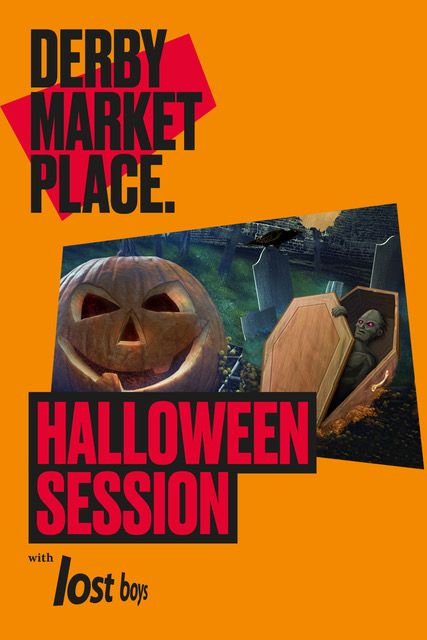 Event
Halloween Session with Quiz Night -Mare
Halloween Quiz
Location: The Market Place
Running Time: 3 hours 30 minutes - approximate, including any interval(s).
The Lost Boys invite you to crack their crypt-ic conundrums, probe their paranormal puzzles, and mentally meander through their macabre mysteries in this one-off Halloween quiz night.
Owing to both members of The Lost Boys having to stay in quarantine until early November, Derby City Council's Derby LIVE team has regretfully taken the decision to cancel the Hallowe'en Session and Quiz Night-mare, which was due to happen this Sat, 31 Oct.
We have been unable to find an alternative compère who could meet the expectations set by The Lost Boys, with their own inimitable style and humour, and feel the evening would not be the same without them.
In addition the safety of our audiences, staff and performers comes first and we are in no doubt that this is the responsible decision. We wish both members of The Lost Boys well and look forward to their version of A Christmas Carol in the River Gardens in December.
Customers who have bought tickets to the Hallowe'en Session and Quiz Night-mare will be contacted direct by the box office and receive a full refund.
Go head to head with other teams following the SpeedQuizzing format, with players given just ten seconds to answer the themed film, music and general knowledge questions over a number of fast-paced rounds, with the quickest person to answer correctly gaining bonus points. Recommended age guidance 18+. 
Expect a fiercely fought, good-humoured contest with the chance to order your own treat this Halloween with our Alfresco dining and bar table service.
We invite you to join us and dress for this eerie event. All ghouls, goblins, witches, and other creepy curiosities welcome.
SpeedQuizzing - What You need:
A smartphone or tablet capable of connecting to a WiFi network (one per team, the app works best if mobile data is turned off on the device you want to use. A tablet will work better as the screen and buttons will be easier to reach by all members of the team).
Enough battery to last the duration of the event (Approx 3 hours including setup time, bring a portable charger as no power at the tables).
Up to six people per team (Current Social Distancing Guidelines) Visit the FAQs and read T&Cs below.
Just download the software: (This can be done any time before the event, charges may apply over mobile network). Apple App Store | Goggle Play | Amazon App Store

Timings
6pm doors, 7pm – 9pm
Visit the Market Place website to read all the FAQ's
Terms and Conditions
If you or any member of your group are feeling unwell or are displaying any symptoms that relate to Covid-19, please don't attend.
For your safety, bag checks will be in operation on entry to the site.
Alcohol cannot be brought onto the site.
Abusive or offensive behaviour in any form will not be tolerated.
Smoking is not permitted on site. This includes the use of e-cigarettes in all forms.
Dogs are not allowed, with the exception of Assistance Dogs.
Under 18s are welcome (excluding The Beer Sessions) but must be accompanied by an adult.
We reserve the right to refuse entry to our customers at any time.
There is a maximum of 6 people to a table and current social distancing guidelines must be adhered to. Please ensure you maintain adherence to the Government guidelines when inviting other people to join you. Whilst 6 is the capacity for each table, we do ask that all groups follow social distancing guidance to influence the number of guests in the party and be transparent around 'social bubbles' to ensure the enjoyment and safety of all customers. Our policies and procedures are in line with national guidance on test and trace, and this will continue to be the case across all aspects of Derby Market Place.
The table is yours for the entirety of the booking. The site will need to be clear at the end of the time slot to clean down. Please bear this in mind if ordering food for delivery, giving you enough time to enjoy your meal.
The person who makes the booking will be asked to provide full contact details in line with national guidance on test and trace. We ask that if anyone contracts Covid-19 to contact our Sales and Information Centre so we can follow the test and trace guidelines.
If you have made a booking and are unable to attend please contact our Sales and Information Centre on 01332 255800 option 1 or email boxoffice@derby.gov.uk. Bookings are non-refundable without 24 hours' advance notice by telephone.
Table numbers must be given to food outlets when ordering for delivery. Responsibility for all aspects of any food ordered, from quality to timeliness of delivery, is with the outlet you use. Unfortunately, we cannot accept responsibility for any food orders that do not meet your satisfaction.
There is a bar on site, drinks can be purchased after displaying your food order. It is a condition of the licence that alcohol can only be purchased with food consumed on the premises. The bar will close 15 minutes before the end of the session.
As with any bar will be operating a "Challenge 25" policy on all purchases. If you are fortunate enough to look 25 or under then proof of age maybe requested.
Acceptable forms of ID are: valid Driving Licence, valid Passport, Military ID or any other form of ID with the PASS hologram on it. We reserve the right to refuse serving alcohol.
No glass will be permitted on site; all drinks from the bar will be decanted to plastic that we will provide.
You must stay in your plot unless using facilities to comply with social distancing policy. You will be able to see the stage but sight lines are restricted in the chalets.
Bookings of more than 6 people across multiple tables will not be accepted. Please contact our Sales and Information Centre if your household group or support bubble is larger than this. Proof may be required and is subject to availability.
Cutlery will be supplied by the outlet, or alternatively you can bring your own disposable cutlery.
We have access-friendly chalets and tables available. Should you wish to book one, please confirm your requirements in advance with Sales and Information team and we will do what we can to accommodate your request.
We think you might also enjoy...