This is a past event that has already taken place. Sorry if you missed it, find out about future events on our what's on page.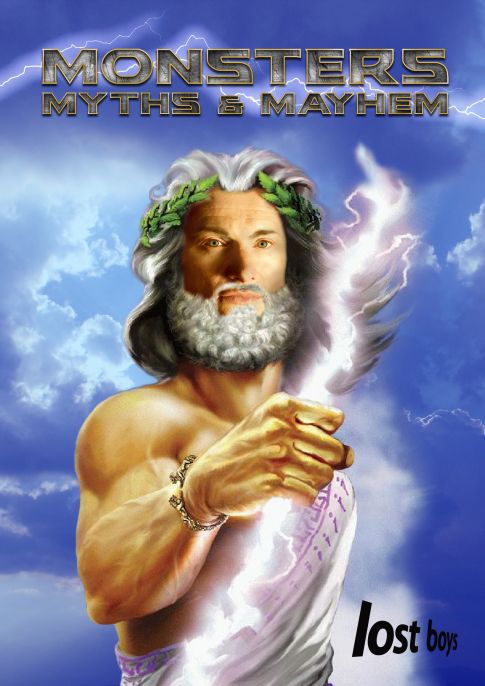 Theatre
Monsters, Myths and Mayhem
Location: Markeaton Park - Craft Village
Customers are advised to bring their own seats.
Running Time: 1 hour 50 minutes - approximate, including any interval(s).
From The Lost Boys comes a new exciting show for summer 2019.
Join The Lost Boys as they journey to a time of Gods and Heroes, where Monsters, Myth and reality collide causing absolute chaos. Derby LIVE favourites, The Lost Boys turn their attention to Ancient Greek Mythology for their latest adaptation, expect a wacky adventure (as if they made it whilst trying to get their Blue Peter badge) featuring wigs, swords, sandals and sticky back plastic.
The Lost Boys have been on an archaeological mission to find an ancient Greek artefact that some thought was only a myth. An artefact so powerful it could change our world completely, as it did once before. An ancient gift that Zeus himself created...Pandora's Box. Did The Lost Boys succeed, we hear you thinking? (don't worry it is only a figure of speech, we can't actually hear your thoughts - that would be weird). So, did they succeed, have they made the archaeological discovery of the century? Yes, they did succeed, and they are going to present it to you as part of their new show, Monsters, Myths and Mayhem, coming to Markeaton Craft Village this summer.
What could possibly go wrong, when two hapless, theatre-type idiots get their hands on the very vessel that contained all the ills and misery of the Ancient Greek World. What calamities and hilarities might ensue as The Lost Boys delve into Greek mythology and Greek Theatre? Will there be monsters,- you'd expect so as they are in the title! Will there by mayhem - have you been to a Lost Boys show before! Will there be questionable costume choices?  Will there by throw-backs to glorious Greek epic movies from their childhood? Will there be music, will there be dance, will there be love? Will there be Australian Mermen?  Will there be a talented chorus doing most of the work because The Lost Boys are getting too old for these shenanigans? Join The Lost Boys on an epic adventure this summer and witness the Greek Myths as never seen before.
An epic and comic exploration of classical Greek mythology including well known tales featuring Hercules, Achilles, Theseus, Perseus, The Minotaur, Medusa and the Kraken. All delivered in The Lost Boys inimitable style.
Catering
Why not pre-order one of the following food options with your tickets? You will be able to collect your freshly prepared order when you arrive at the Markeaton Park Craft Village from The Orangery Café. Orders can be ordered up to 5 days before the performance. Hot and cold drinks and a limited food selection will be available to purchase during the performance.
Pizza Platter £10.50
11" margherita or pepperoni pizza, garlic bread and chunky chips.
Outdoor Tea £10.50
Tea or coffee, a meat or vegetarian sandwich selection and 2 slices of cake. Suitable for 2 people.
Let us know of any dietary requirements when booking.
A selection of wines, beers, spirits and soft drinks will be available.
For existing ticket holders, call 01332 255800 to pre-order food.
View our customer information and FAQs page about Outdoor Theatre
£16
Offers
Take advantage of one of the following great offers for this event.
If you hold a membership subscription you may be eligible for discounts. Log in and these will be applied to your order automatically.
We think you might also enjoy...