This is a past event that has already taken place. Sorry if you missed it, find out about future events on our what's on page.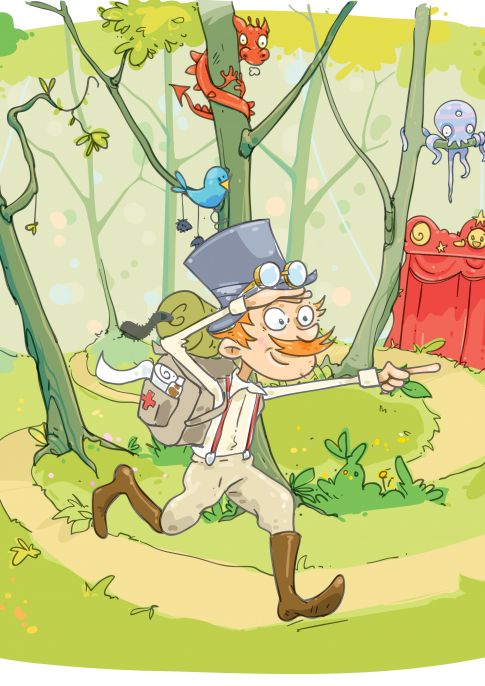 Event
Here Be Dragons!
A walking, story-telling adventure
Location: Markeaton Park - Craft Village
Running Time: 1 hour - approximate, including any interval(s).
This summer Babbling Vagabonds return to take you on an adventure into the unknown. They want to hardwire your imagination and take you on a trip that will refresh the senses, even on a hot day.
Throughout the COVID-19 pandemic, the safety of the public and our staff has been the priority of Derby City Council. It is with regret that we are now announcing that all outdoor events, and events at Derby Arena and other venues, will not be running until at least the end of August. This event has been cancelled and we will contact customers direct to arrange refunds. Visit our news story for more updates.
"The first thing to do when treating a poorly beastie is to calm it! The best way to calm it… is to tell it a story!"
Join the brave zoologists, the 'Monster Menders' as they take care of strange and peculiar creatures. Discover the wonderfully weird and woolly, the slimiest and smelliest, and those shy secretive monsters that slither and wobble about in our wonderful world.
Could you tangle with a five-headed Hottle-Spottle with toothache?
Becalm a Big Bottomed Banghanger with belly rot? 
Soothe a silver-tongue-slimp-slatherer with a drooling problem?
If you have a big imagination and are brave enough to take a step into the unknown, then this wild walk is just what your family needs. Every time you find the Monster Menders a different story is made, each tale a unique experience.
Returning this summer 2020, an adventure theatre show from those 'funsters', the Babbling Vagabonds!
View our customer information and FAQs page about Outdoor Theatre.
£9
Concessions:
£0
Concessions are typically available to over 60s, under 16s, students, unemployed and disabled people. Click Buy Tickets to see what concessions are available for this event, and for more price information and availability. Children 12 months and over require a ticket, unless otherwise stated. Proof of entitlement to concession may be required on collection of tickets or on entry to the event.
Concession tickets for under 3s free
We think you might also enjoy...